The Banana Man 6: Banana Man Goes West
The Banana Man 6: Banana Man Goes West is a Western Comedy Video Directed By Rod Westheider it is the sixth Video in the Franchise and is a Stand-Alone Sequel to the Previous ones. Jason Marsden did not reprise his role as The Banana Man instead Westheider played another Banana Man also Marsden was never mentioned in this Video this Video was for Westheider's friend Sabrina Carpenter for her 19th birthday it was released on May 8, 2018.

Plot
The Western Banana Man (Rod Westheider) gets mad at a Cowboy (Rod Westheider) and starts a Cowboy fight and of Corse The Cowboy eats him to death.
Cast
Rod Westheider as The Western Banana Man/The Cowboy
Production
Jason Marsden didn't reprise his role as The Banana Man Due to Marsden working on Mars Variety Show so Rod Westheider portrayed another Banana Man who was based on one of Westheider's favorite Voice Actors Mel Blanc this Video was for Sabrina Carpenter on her 19th Birthday.
Video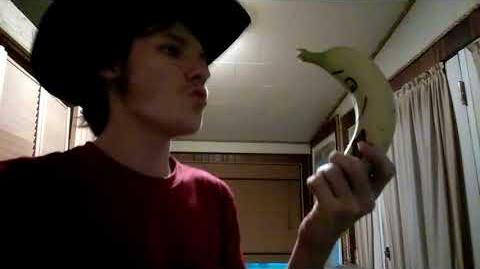 Sequel
The Seventh Video was Released and it stars Jason Marsden Rod Westheider Sabrina Carpenter and Cameron Boyce.
Community content is available under
CC-BY-SA
unless otherwise noted.