The Banana Man 4: The Return Of The Banana Man
The Banana Man 4: The Return Of The Banana Man is a 2018 Comedy Video Directed By Rod Westheider and Starred Jason Marsden it is the 4th Video in The Banana Man Franchise and is a Sequel to it it was released on April 24, 2018.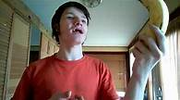 Plot
The Banana Man (Jason Marsden) was giving a person his Autograph and he was telling everyone stories about his life but his Manager (Rod Westheider) wanted to go to a concert that they will be paid to go to and The Banana Man doesn't listen so his manager ate him to death.
Cast
Jason Marsden as The Banana Man
Rod Westheider as The Banana Man's Greedy Manager
Production
Rod Westheider said he was not going to play as The Banana Man and gave his role to Jason Marsden.
Video
Sequel
a fifth Video was released and again Jason Marsden reprised his role as The Banana Man.
Community content is available under
CC-BY-SA
unless otherwise noted.