The 
Pearson family household 
is a household located in
Lakeside City
. It consists of so many rooms, it's one of the examples of the trope,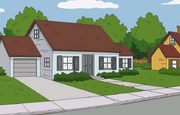 "Bigger on the Inside".
A replica of the household can be visited in GoAnimateLand.
Residers
Occasional residers
Former residers
Pirate skeleton
The Big Bad Wolf
Rooms
The rest are either a handful of guest rooms, more living rooms, you get the point.