C
---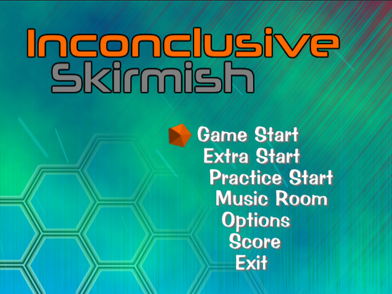 Inconclusive Skirmish is a work-in-progress (as of May 2015) game created in Touhou Danmakufu ph3 by Bubsy Bobcat. It is of the shoot-'em-up genre.
Plot
Not yet written. However, Dora and Warren Cook have something to do with it.
Characters
Brian (not final name) - the guy in the red hoodie, he sets out to solve the incident.
Bubsy Bobcat - Stage 1 boss and midboss. (a necessary self-insert)
VGCP Officer - Stage 2 midboss.
Stephanie Gavin - Stage 2 boss.
??? - Stage 3 midboss and boss.
??? - Stage 4 midboss and boss.
Warren Cook - Stage 5 midboss and boss, Stage 6 midboss.
Dora the Explorer - Stage 6 boss.
??? - Extra stage midboss.
??? - Extra stage boss
??? - Phantasm stage midboss
??? - Phantasm stage boss
Stages
Stage 1 - No name - GoCity Green at Night
Stage 2 - No name - Night Sky above GoCity
Stage 3 - No name - Rooftops of GoCity
Stage 4 - No name - GoCity Lake
Stage 5 - No name - GoCity Forest 
Stage 6 - "Travels of the Irrationally Despised Voyager" - GoCity Forest outskirts at dawn
Stage Extra - No name - Lowest Layer of Sky at Noon
Stage Phantasm - No name - Border between GoAnimate World and Outside World