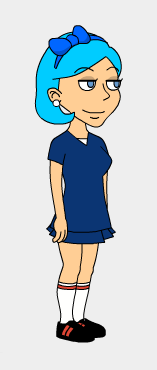 Cirno
(or
チルノ
) is a mischevious ice fairy from the Touhou Series, and her favorite number is 9! She freezes people with her ice powers! She existed for around 60 years but she is actually a child (maybe 6 – 9 years old as a child) in Youkai terms! She has a spoiled and unfair personality! She hates Reimu Hakurei because she is a hero unlike Cirno herself! Cirno's name is pronounced Cheer-no! She already has a grounded series by Mitsuki GoAnimate Fan but Optimus500050 is planning to make a grounded series out of this character!
Info
Date of Birth: September 9, 1953
Age: 60 (6 - 9 in Youkai terms, she is not supposed to be a senior citizen!)
Voice: Kayla
Gender: Female
Species: Fairy
Like and Dislikes
Likes: Freezing people, being unfair, Ice, modern Nick/Disney sitcoms, Liv and Maddie, Dog with a Blog, iCarly, Victorious, Johnny Test, Baby Shows, anime, etc.
Dislikes: Unfreezing people, being fair, Fire, some other non-baby shows, CSI series, Disney movies, My Little Pony: Friendship is Magic, Cartoon Network shows, etc.